---
FSY(fun.sexy.you) has launched a campaign "Break Up with the wrong BRAND". The campaign, while being a humorous take on a competitor brand's marketing program, also intends to make girls more aware of the brand of lingerie they purchase. The premise for the campaign was the result of a survey conducted, which concluded that 75% of all girls purchase a brand of lingerie based on their mothers choice.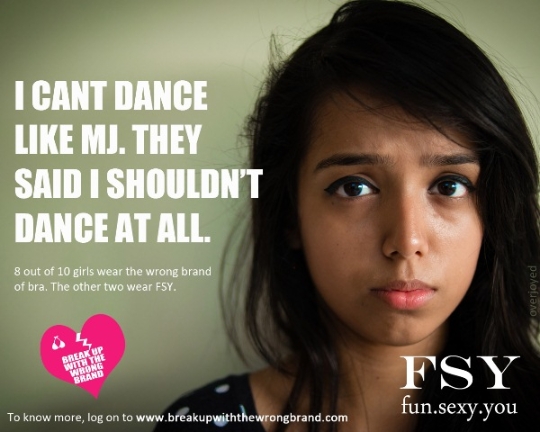 "After talking to a large number of young girls, we analysed that their mothers have a large influence on the choice of brand of lingerie. While the choice may not necessarily be a bad one, our aim is to urge girls to think more about what brand they are going to choose, and not simply follow their maternal footsteps. For today's Gen Y, brands form an important part of their life. Whether it is the coffee shop they drink at, the type of sneakers they wear, or the lingerie they put on. Just because it's underneath their clothes, does not make the brand less important", said Rohhan A Divanji, Chief Executive Officer, FSY.
Neha H Gupta, Director – Operations and Finance, FSY, added, "Our aim isn't to make girls aware of a brand for aspirational purposes. A brand not only gives quality, durability, comfort, but also mental satisfaction. When a girl makes a choice of a brand of lingerie at that young age, it generally is a choice that they stick with for life. We just want them to be aware that their choice should be a well thought of one."
The launch of this campaign coincides with the launch of the Autumn Winter collection by FSY at www.funsexyyou.com. A wide range of lingerie, socks, sleep and loungewear, as well as gym wear are on offer. FSY is a Mumbai based startup, founded by Rohhan A Divanji, and the company sells their products exclusively online.
The "Break up with the wrong brand" campaign will be carried out online, across social media, as well as outdoor activations. A dedicated microsite has also been launched at www.breakupwiththewrongbrand.com.
Choose your right brand now with FSY with this exclusive 25% discount code FSYFREESHOP25