---
Buy the Callmate 5-in-1 Emergency Multipurpose Charger at Just Rs.100.  Only by using the following coupon code at Seventymm. This 5-in-1 Emergency Charger is made by Callmate. This multipurpose mobile charger can be used during travelling, on various different chargers with its different multi-output mobile plugs.
Callmate is leader in manufacturing electronic and mobile accessories. They are importer, exporter and manufacturer of electronic accessories like chargers, Bluetooth devices, iPod accessories and in-car accessories in India.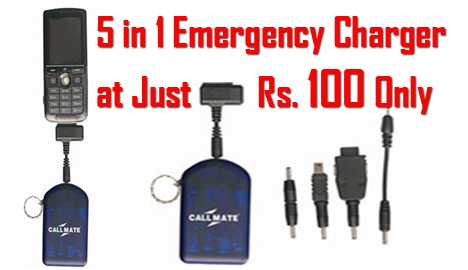 How to Buy 5-in-1 Emergency Multipurpose Mobile Charger at Just Rs. 100
Click here to visit Seventymm
Login or Register
Fill in your shipping details
At Checkout use following coupon code "XV7893SEV1020" and get Rs. 50 off
Specification of Multipurpose Mobile Charger:
Operating voltage 6 Volts (1.5V x 4)
Connector avialable
Dual Connectors:
Blackberry (All), USB, LG, Nokia, Samsung, Micromax, Sony Ericcson, etc mostly Charge 90 % Mobiles avilable in the market.
Features of Multipurpose Mobile Charger:
Dimensions:5x4inch
This unique product is very compact and Portable, easy to use
Battery Operated Emergency Charger for all models available in the market Works on 4(AAA Cells)
Very handy at home, office and while travelling
LG, Nokia, Samsung, Micromax, Sony Ericcson etc. mostly Charge 90 % Mobiles avilable in mrket
Charging capacity is according to the Cell
Optional Blackberry and Iphone connector also available