---
It really doesn't matter where you are. Keep yourself updated with what's happening around the bollywood even if you are on for an outing with friends or are dining with family.The Kapoors, The Khans and the sizzling hot female actors are now just a TAB away with this Superstar Tablet from Samsung. Click, Edit, Add Captions and rule the networking sites.
You can buy Samsung Galaxy Tab 2 at just Rs.18400/- from seventymm.com Lowest deal online 25% off
Also see 10 best Tablets under Rs. 9999/- Click Here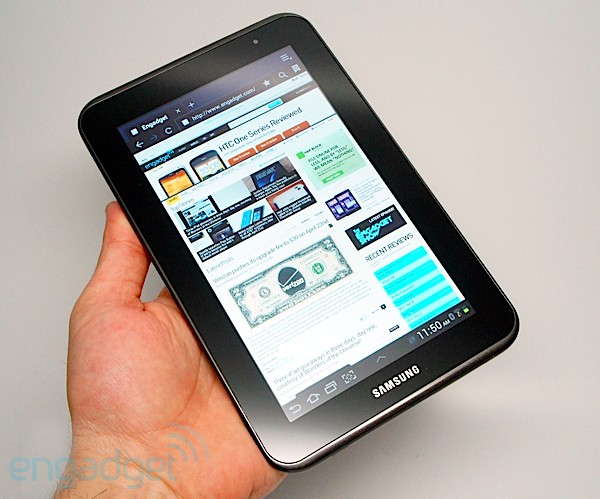 Key Features Samsung Galaxy Tab 2:
Android v4.0 (Ice Cream Sandwich) OS
7-inch TFT Capacitive Touchscreen
1 GHz Dual Core Processor
3 MP Primary Camera
0.3 MP Secondary Camera
Wi-Fi Enabled
HD Recording
Expandable Storage Capacity of 32 GB
About Product:
Samsung Galaxy Tab 2 packs multimedia, communication and top Internet functionality in one highly portable personal tablet device. Features include numerous multimedia-oriented samsunghubs and applications and voice call, video group chat. Powered by latest Android OS and connected to various networks for seamless performance and great all-round usability.
The MyReader application seamlessly integrates reading and subscription to some of the best Magazines, Newspapers and Books on the GALAXY Tab 2. MyReader is built on the Mediology Digital Edition platform. Now, build your own Shelf which integrates the content you love reading the most. All the content is currently free to download.
Check out top e-books, latest songs, premium games and recent video releases. The home screen layout maximizes your experience of Samsung Hub services by providing direct access to apps you love using the most.
AllShare Play integrates digital content from different networked devices into one seamless flow – its almost like having one device. You have the freedom to download photos or movies and then push to watch later on your Samsung TV. AllShare Play also acts as a gateway to web storage services where you can conveniently and securely upload and backup your data for safekeeping or sharing.