---
 This Ozomax Folding Micro Hair Dryer is Compact & fast drying with 2 speed modes and Maximum hot air flow in minimum power consumption.The Feather King Eyebrow Trimmer And Shaper lets you Get rid of unwanted hair with its powerful and safe-to-use blade and Can even shave unwanted hair from any part of the body,it also has Cover on blade for safe storage.Portable & lightweight. Features an ergonomically designed long handle.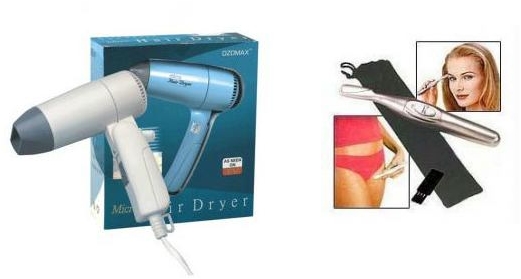 How to buy this combo pack :
2.Click on Buy Now button to add this product to your shopping cart.
3.Click on the Proceed to pay button & enter your email id example@yahoo.com. Fill in other details
4.On payment page, enter COMBO250as Gift Voucher Code and Click on Redeem button
5.The subtotal on the payment selection page will not change, but a message will be displayed confirming the discount,rest assured that your coupon has been accepted successfully and you will be charged only the discounted price.
6.Now pay using Credit card / Debit Card or Net banking