---
Rewardme.in is official brand of Global FMCG giant P&G who own the brands like Gillette, Arial, Olay, Head & Shoulders and Pantene. You can order Free Samples from Rewardme.in as per product availability and on new product launch. Simply register and choose the desired products you want. This time they are offering the free sample of Gillette fusion for men. Fusion is the top most razor brand of Gillette and also expensive, but here you are getting it for free ;-).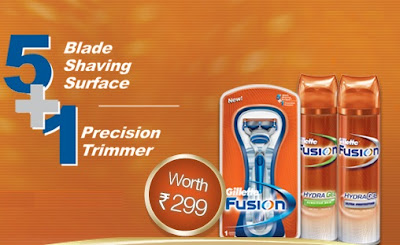 How to order free sample of Gillette Fusion:
Click here to go to Rewardme.in Sign in or Register (If you already have an account).
Then go to my accounts tab.Tick all the conveniences even if you dont own and then click update.
Then go to my samples and below you will find "products you can sample".
Click on order free sample of gillette fusion and then complete a simple survey of three objective questions and you are done.
After the whole process, you will receive your order number and confirmation in your mail box.
Note: Due to huge demand for free samples, your free sample orger request will take upto 1-2 months to deliver.