---
These branded T-shirts are made from good quality fabric. A solid addition to your wardrobe! In solid colors, these t-shirts made from soft, lightweight cotton fabric provide incredible comfort. Available in a pack of 2!! Limited period offer with limited stock so hurry up before the stock is sold out.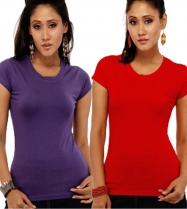 How to buy this attractive pair of T-shirt:
Click Here to buy this T-shirt from the offer page.