---
This unique pillow cradles and supports your neck thus preventing pain and stiffness that can be triggered in your neck, back and shoulders. It improves the blood circulation around the neck and head, which in turn increases the oxygen supply to brain. The inbuilt MP3 Speakers help you to relax further. Just plug in and enjoy your favourite numbers. Perfect while napping or travelling. You can use it in your home, office, airplane or for that matter your car. It can also serve as an ideal gift. Available at big discount to market price purchase it before the stock is sold out.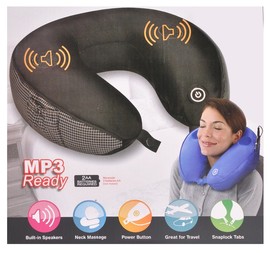 How to buy this MP3 massager:
Click Here to buy this MP3 massager from the offer page.