---
Joint-Stock Company, VOV was founded in August 1981 after realising the true meaning of the word 'Beauty'. For the last 30 years, VOV has been doing everything possible to satisfy its clients with world class products available at the most competitive prices. With 30 years of customer satisfaction, highly qualified staff of VOV develops quality cosmetics using latest technology. Constantly improving the product quality and keeping in line with rapidly changing fashion trends, Company operates in the scientific and industrial factories and laboratories equipped with advanced systems to improve the quality of research and development. Much attention is paid to international management. Thanks to the bold scientific advances and innovative developments in the field of decorative cosmetics VOV has won success in United States, Japan, China, Russia, Mongolia, Australia, Southeast Asia and the Middle East.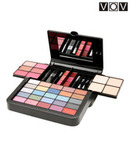 How to buy this Make up box:
Click Here to buy this Make up kit from the offer page.